If you can't already tell, I'm a few weeks behind with these blog posts. I haven't posted to my new instagram handle … not a once, and I'm a hot mess of overworked and understimulated - so bear with me while I catch myself up.
The car is home. It's in the driveway, everyone's got an idea of what would be amazing, and I'd be lying if I said I hadn't already started buying up accessories to make this JP Exploder pop like a NYE firework on Sydney Harbour. 
First up is the vehicle number. What do I pick? 
In Jurassic lore, there were four explorers. Yes, four. Vehicles 04 and 05 are the ones seen on screen, while 06 and 07 are referred to briefly in the background of one of the scenes. I didn't have a rock paper scissors method of picking the number for my build. Five is my favourite number, so off we go. 
There are some great prop makers on Etsy if you're ever in the market for that kind of this. Aside from being a great person, Paul Elder Design has created brilliant mockups of the books featured in the film: God Creates Dinosaurs and How The World Will End by Ian Malcolm, Alan Grant's Dinosaur Detectives - which always looked suspiciously like Digging  Dinosaurs by Jack Horner. They're going to make great talking points in the back of the car. 
Anyway, getting off track. 
Jurassic Park Props is the go-to for your car mirror tags, keychains and character InGen ID badges. Of course I've got my OTP, Alan and Ellie, and matching keychains for my 05 mirror tags. They really have added a magic touch to something I know is going to be a long time in the making.
When the fun and frivolity are done, it's time to give the car a solid clean. It's 23 years old, and boy is it full of that many years' worth of dirt and dust. The carpets are grubby, the windows need a clean … and door panels are glued together with all the skill of a teenage boy and his dad's smut magazines. There's run off everywhere, including the steering wheel - which looks like the Very Hungry Caterpillar has tried having its way with it. 
Like I said, I never expected perfection from this car. Going into this, I knew it was going to be a lot of grub before a lot of shine, and the fact that the steering wheel was missing all its leather is proof of that. It looks gnawed, chewed, and feels worse. If I want to drive it around on the regular, and I really do, it's a quick fix: a $30 steering wheel cover from Supercheap Auto. It does the job until I can work out exactly what I'm going to do to the interior.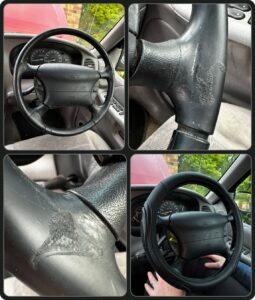 Simples. 
Then it's back to basics. The next thing I want to do is simply vacuum the car out. The screws, soy sauce fishes, and old Vicks Vapor Drops hanging around the back seat are giving the ick, so out comes the trusty Dyson. But not before we have to fish all of this shit from beneath seats, jambs, and under the carpet. And, look, I know I'm not the neatest person out there. I'm sure some of you have driven around with me plus half a dozen of my most recent frappe purchases. But I'm reformed. I'm a lady. This will not do. 
The best part? That crackling sound as everything disappears inside the vacuum. It's ridiculous how satisfying that is. But it's what it leaves behind that proves to be the topic of our next blog post: now I can see how filthy the carpet is!