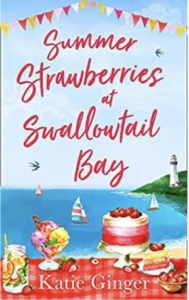 Are you ready to head back to Swallowtail Bay? Because I am. Summer Strawberries At Swallowtail Bay is the second of the Swallowtail Bay books and, given I loved the first one so much, I just knew I had to jump into this one. So, let's do this . . .
We left Spring Tides at Swallowtail Bay with Stella and her gift shop. This book introduces us to festival organiser Hetty, who's torn between local lord of the manor, John Thornhill and bakery owner Ben.
In the year of our lord, 2020, I need feel-good reads more than ever. I've picked up plenty of books this year, only to put them down when it all got a bit too dark, a bit too unhappy, and left me short of the warm fuzzies. This was not one of those books. In fact, it had everything and more.
Let's start with our girl, Hetty. I love books that feature strong women, those who know what they want and aren't afraid to go after it. They're even better if they're still lovely, decent people in the process, which Hetty is.
In this case, Hetty's chasing a venue to hold and reinvigorate the annual Strawberry Festival. We have strawberry and blueberry festivals here at home, so I was so here for this part of the storyline. The best part? It brought us smack back into contact with John Thornhill, who's a loveable but grumpy type – the best. As we'd all be hoping, sparks fly!
There's just something that has me clutching my Kindle in glee when I see the headstrong woman and the grumpy man come together in a book. I want more, I want to see them zinging off each other and for each other, and Katie does such a great job of handling this part of the book. So much love here!
Swallowtail Bay is once again full of a gorgeous cast of characters. I loved seeing locals to come together to help the festival come to life. Can more towns be like this? Imagery was vivid, the writing flowed wonderfully, and I'm already looking forward to the third book.
Summer Strawberries At Swallowtail Bay is the heartwarming, cosy and charming book that you need to buy today!
5/5