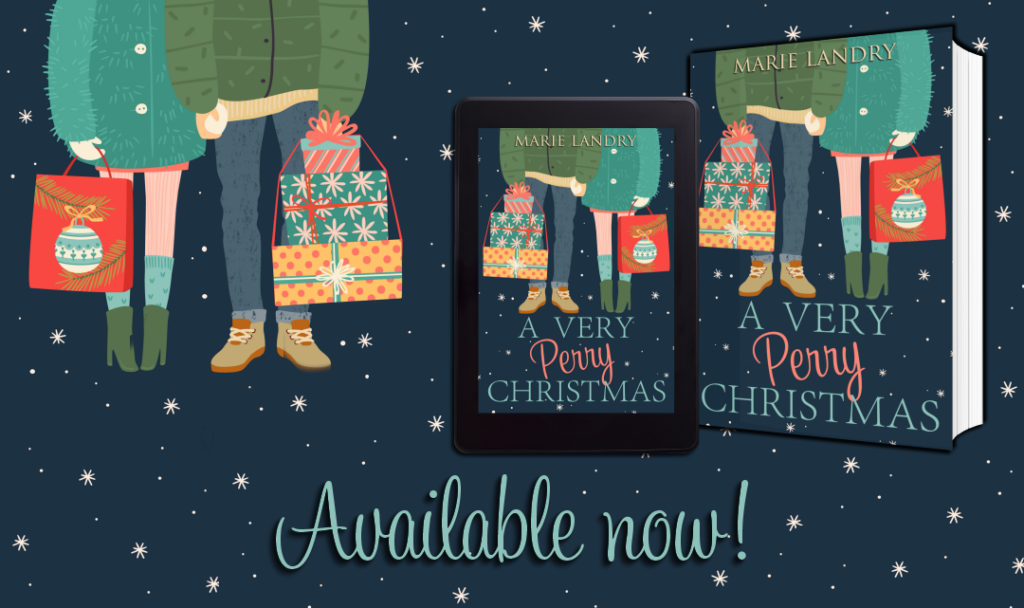 If you haven't heard of Marie Landry, where the bloody hell have you been lately? Marie writes gorgeous romantic books that make you feel, laugh and fall in love. And, this week, she releases her latest book, A Very Perry Christmas. 
I'm thrilled to have her as a guest contributor on my blog today. 
10 Things You May Not Know About 
A Very Perry Christmas
1. The idea for A Very Perry Christmas came to me in 2019. I didn't have time to write it, so I put it on the back burner for 2020. As the year went on, I figured I'd have to put it off until 2021, but then one day I was looking at stock photos for a different project and got distracted by Christmas pictures. The Perrys started talking to me again and I knew I had to write their book, even though it was already September. I ended up writing the novella in about three weeks.
2. I wrote the entire first draft without knowing the main characters' names. The world very nearly had a Christmas romance about a couple named Heroine and Boyfriend. I was well into revisions before Gwen and Evan revealed their names to me.
3. Evan's oldest brother was originally named Duncan. When I realized 'Duncan' would be getting his own story, I decided to change his name – nothing against the name Duncan, but it didn't feel right anymore! I've been saving the name Jasper for years, and finally found a character it was perfect for.
4. One of Evan's sisters brings her purebred ragdoll cat to Christmas. My best friend's mum has one, and after cat-sitting for her a few years ago, I knew that giant ball of fluff would end up in a story someday.
5. A Very Perry Christmas is a complete standalone, but the characters are from the fictional Canadian town of Bellevue, where many of my other books are set. The main characters from my 2018 contemporary romance Only You get mentioned several times as friends of Gwen and Evan's. 
6. The first holiday movie the Perrys watch every year is The Santa Clause. It was the first movie their parents – who have been dead for many years – took them all to see in the theatre. I worked it into the story because it was the first movie my mum took me to see after my dad died, and it's always had a special place in my heart. 
7. The book mentions several sweet treats, including Candy Cane Viva Puffs. Viva Puffs are a Canadian marshmallow cookie, and the special edition candy cane ones come out every winter. I've had so many early readers message me about those cookies – most of the Canadians have said they didn't know candy cane ones existed, and most of the non-Canadians have said they looked up Viva Puffs and wish they had them in their country. If we weren't in the middle of a pandemic, I'd send some out as giveaway prizes!
8. This was my first time writing about an established couple. I love writing a good meet cute and I missed doing that with this book, so I found a way to work in Gwen telling one of Evan's siblings about how the couple met.
9. I like to drop little Easter eggs for friends into all of my books. One of the ones in A Very Perry Christmas was naming the Christmas tree farm they visited after one of my best friends, Jaimie Admans, whose 2019 Christmas romance, Snowflakes at the Little Christmas Tree Farm, was about a girl who buys a Christmas tree farm.
10. When I wrote this book, I had no idea it would be the first in a series. Jasper stole my heart and he's already stolen the hearts of many readers, so I knew he needed his own book. In a way, even though A Very Perry Christmas is Gwen and Evan's story, it's kind of a prequel to Jasper's story. It wasn't intended, but it feels like a happy accident!