Come at me, Week Four. It's an exciting time to be alive. I went to my very first AFL game yesterday, after spending all week working through Save The Cat Writes A Novel. Well, when I wasn't sleeping. What is it about antidepressants and sleeping? Just call me Princess Aurora. Yikes. 
Anyway, here we go. Let's get this book written. 
Monday
Most Mondays begin the same way. I wake up, I do my morning routine, take my meds, then sit down at my desk with a heart full of hope and plans for days. 
And, then, nothing. 
Today, I was determined to do something different. Yesterday, when I was busy trying to find a tiny yellow ball on a massive footy field, I was thinking about how I'd gone all day without napping – something unusual for me at the moment. I figure it has a lot to do with keeping my brain stimulated. It gets bored, it goes to sleep. Kind of makes sense. 
I suspect a lot of neurodivergent people will tell you that lists are awesome. So, today, I wrote a To Do List. 
The best part was, the To Do List got To Done. 
Book 6 Word Count: 2137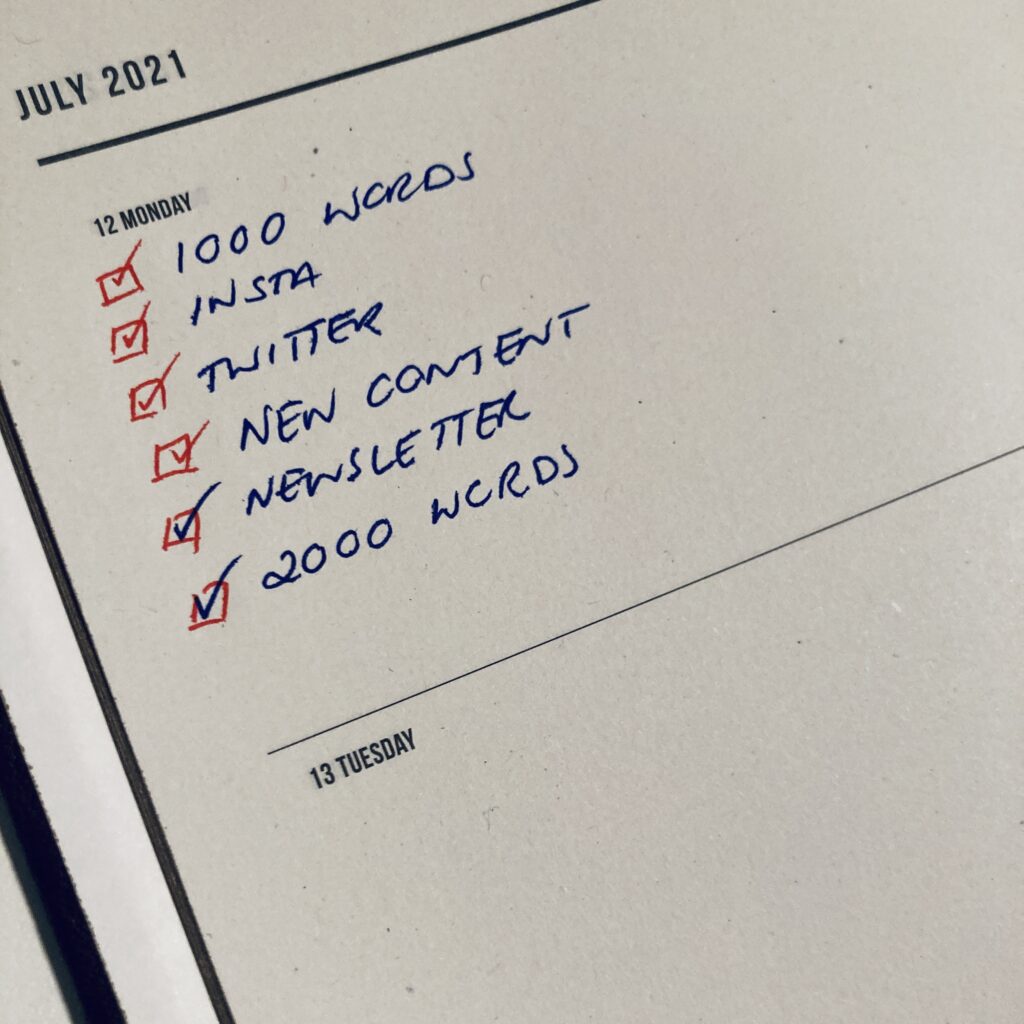 Tuesday
It was another day of To Do Lists, newsletter writing, cleaning up a mess on my blog and social media. 
Somehow, the newsletter took up a LOT of the day. MailChimp have had a site update, so their mail builder is different and, well, nek minnit – here comes the sun(set). 
Good news is, it's done. That was a big hurdle for me. 
Eventually got around to writing and clocked up 300 words – massive I know. The good news is, I'm still on target, so it's all good. 
Oh, and I managed to give a little love to the side hustle, too. More on that later. 
Book 6 Word Count: 2417
Wednesday, Thursday & Friday
It's Monday morning as I write this and I legitimately cannot remember the end of last week. #sorrynotsorry. 
Shall we call it a draw and move on to a new week? We should? Good call. 
See you on the flip side.